Catch the latest Club News!
Prices reduced
Unfortunately due to circumstances beyond our control, we have been unable to source fish to carry out the last stocking of the season.
The Committee has therefore taken the decision to lower prices until the end of the season.
From tomorrow, 29th September, members will be charged £10 per person, visitors £15 per person.
There are still a good number of fish in the Island Pond, but they are proving difficult to tempt.
The North Pond is reopening – book now!
We are re-opening the North Pond from Thursday, October 1, for a trial period. Charges will be the same as for the island Pond – £10 per member and £15 per visitor.
Due to the pandemic the pond has not been stocked but good numbers of fish are being seen moving.
Limited amounts of water sports may be carried out during the school holidays.
If there is space anglers can use either the Island Pond car park or the staff car park beside the office.
AGM postponed
Message from Ian McLean, Club President.
Due to the ongoing Coronavirus pandemic the club AGM, due to be held in December, will have to be cancelled.
Over the next few days all club members will receive a letter from the committee outlining our reasons for this decision and how we propose to keep the club functioning for 2021.
Please take the time to read the information contained, and if you wish to comment, follow the instructions in the letter to contact the club secretary.
If you do not receive your letter please contact membership secretary, Steve Carmichael.
We hope the proposals will meet with your approval and enable the club to go forward next year.
Stay safe and well.
Voucher offers now closed
The opportunity to use the evening vouchers which came with your membership, for day sessions, has finished.
Also, the loyalty card evening vouchers are no longer valid as the evening sessions have also ended.
Unfortunately we are still unable to run any half day sessions and it is unlikely we will be able to for the rest of this season.
Due to the short season and the fact we've only been able to run three evening sessions a week, if you have not been able to use the evening voucher which came with your membership it can be used for a day session until Sunday September 13th.
Bob's monster catch!
Club member, Bob McLellan, had a major fight on his hands when he hooked into this 7 lbs 4 ozs monster!
Surely a strong candidate for heaviest fish of the season.
Fishing small lures, including hot head dancers, Bob fought ferociously to bring the huge rainbow to the net, on Monday June 22.
Out for the day with fishing buddy, Kenny Giblin, the pair kept 10 fish including another three weighing in at more than 4 lbs, and returned a few more.
What a great day at Monikie.
Well done, Bob!
(Pic by Duncan Inglis)
Happy days! We re-opened on Sunday May 31, and what an opening day it was.

To her everlasting joy and amazement, Rachael Merrill caught her first-ever trout (pictured) ON HER FIRST-EVER DAY FLY FISHING!

Day to remember? You bet! They surely don't come any better than that.

Beautiful day, great fishing – with 113 fish caught (80 returned) – and nine very happy anglers on the water enjoying our first day back since lockdown began in March.

But the new normal means things are a bit different with social distancing, disinfecting etc.

The North will remain closed for now.

We are operating a staggered system of start times. Odd numbered boats will start from 08.30 - 09.00, even numbers from 09.00 - 09.30.

Please state your start time preference when booking. Please do not come to the anglers' car park before your allocated start time. wait in the main car park.

Parking spaces are allocated by boat numbers. To maintain social distancing follow the bailiff's instructions to navigate the one way system for booking in. Once booked in return to your car, collect your gear and take it straight to the boat, leave the jetty asap and tackle up once clear. Extra trolleys will be provided.

Anglers who start at 08.30 will finish at 3.30 pm. The 09.00 starts will finish at 4 pm.

We have 12 boats and 12 car park spaces. One car per boat if all the boats are booked. If 2 people want to fish together they must maintain social distancing.

Pre-booked boats only. Do not turn up on spec as you will not get fishing. The bailiffs will only prepare the boats booked for that day.

Anglers will be encouraged to wear their own lifejackets provided they are automatic CO2 inflation and in working order. We do have lifejackets available for those who need them.

Payment should be made by card. Cheques and cash will only be accepted in exceptional circumstances and NO CHANGE will be given. This is to avoid bailiffs and the treasurer having to handle cash which can carry the virus..

Anglers should bring their own PPE – hand sanitisers/wipes etc.

Fish will not be weighed in, only numbers kept and released will be required.

Visitors must give an address and phone number when booking.This is for Government tracing in the event of an outbreak.This information will remain confidential unless requested by the authorities.

Be aware, the anglers end of the hut will be closed, so no tea making or cooking, and no seating outside.

A portable toilet is available.

Strict adherence to the bailiffs instructions will be expected to keep everybody safe. As the government ease Coronavirus Lockdown restrictions some of these measures may change and we will keep you informed if and when this happens.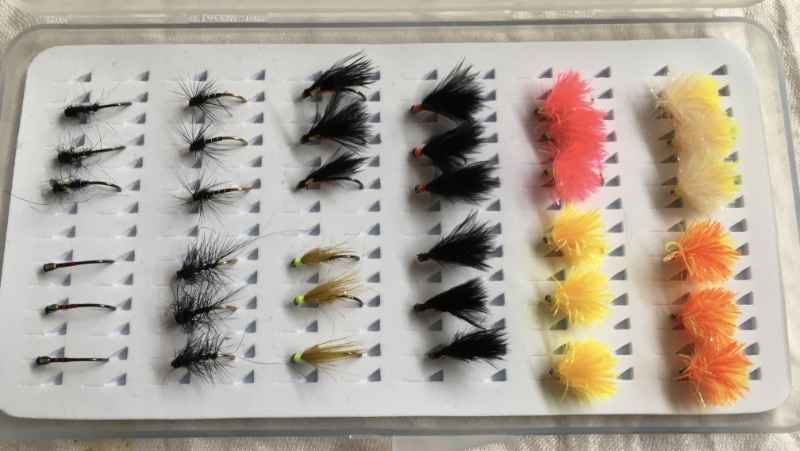 April
Kingsley Davidson wins an Airflo rod, reel or fly line, sponsored by Neil Anderson at Angus Angling.
Mike Tidcombe wins the above pictured fly box with flies tied by Aaron Phillip
Congratulations, chaps!
May
Angus Angling, Jack Reid
Box of Flies, John McDougall
June
Angus Angling, Ron Beedie
Box of Flies, John Carmichael
July
Angus Angling, Edward Fullerton
Box of Flies, Lee Sutherland
August
Angus Angling, David Moodie
Box of Flies, David Robertson
September
Angus Angling, Brian Wilkie
Box of Flies, Harry Anderson
October
Angus Angling, Keith Robertson
Box of Flies, Jemima Thomson
Free evening session with new Loyalty Scheme
A loyalty card scheme has been introduced for members and visitors fishing at Monikie during season 2020.
Pay for any five sessions and get one evening session free.
Loyalty cards are available, from the duty bailiff, for anyone fishing at Monikie.
The bailiff issuing the card will fill in the angler's name and either their membership number or in the case of visitors, their address. The bailiff must also sign and date the card.
When an angler pays for and fishes any session at Monikie the duty bailiff will initial and date one of the boxes on the loyalty card.
Once five bailiff signatures have been collected, the holder of the card is entitled to a FREE EVENING session, with a full five fish rod limit, on the Island or North Pond.
NB – The Committee reserves the right to withdraw the loyalty card scheme at any time.
However all cards issued will be honoured during 2020.
One of the best opening days ever!
Once again, opening day at Monikie was very well supported on Wednesday March 4, 2020.
A total of 24 anglers (including angler/photographer David Murray who is at the other side of the lens), turned out on a beautiful sunny day.
And what a day it turned out to be.
As club president, Ian McLean, said, "One of the best opening days of recent years. The weather was perfect apart from a heavy frost and having to break the boats free from the ice around the jetty!
"Fish were caught on floating or intermediate lines with a variety of lures including Nomads, Humungus, Cats Whiskers and Minkies.
"Some cracking fish in the 4-5 lbs class were returned including one brown estimated at 2 lbs 8 ozs.
"Hopefully that has set the tone for a great season.
"If you have not already done so get your membership renewal in, or if you want to join the club go to our website for full details."
Application form
here
All 12 boats were out on the Island Pond, where 18 rainbows were kept, weighing just over 40 lbs, with 25 fish returned, including three browns, all on the Island Pond.
David Roy caught three tagged browns from his first nine fish caught, which must be some kind of record. He kept two tags, claiming one voucher. All three browns were returned, including one still with the tag attached.
The Borthwicks caught another of the tagged fish, to claim a voucher. In all, they caught six fish,, including a rainbow of 4 lbs 7 ozs.
Over at the North Pond, where two boats were out, one fish was kept and one returned.
A great day!
ALL ANGLERS PLEASE NOTE. The barrier to the main car park is locked at 9 pm, so if you need to exit between this time and the end of an evening session, please leave your vehicle in the car park and not at the Bailiff's Hut. The duty bailiff will unlock the barrier as usual at the end of the session. Of course, in case of emergency, or by prior arrangement with the bailiff, you can ask him to unlock the barrier at any time.
A two fish per rod evening session is being introduced from April 18.
Anglers can still fish the full evening session from the same date (5 fish limit per rod) or opt to pay a reduced price for a two fish limit.
Prices will be the same as the half day 2 fish limit session – £10 per rod for members, £15 per rod for visitors.
The trial will run until May 31.
Around 40 members attended the club's AGM, held in the Masonic Lodge, Artillery Lane, Dundee, on Monday December 2, 2019.
New boat hire prices were recommended, and approved by the members. These are now available on this website.
Membership fees remained the same.
Please remember all membership renewals are to be with the Membership Secretary by February 29, 2020.


Election of Office Bearers
The following were elected unanimously by the members:
President – Ian Mclean
Treasurer – Duncan Inglis
Secretary – Ian Duffus
Fish Convenor – Brian Wilkie
Hut Convenor – Tom McKay
Baliff Convenor – Fraser McKay
Membership Convenor – Steve Carmichael
Booking Convenor – Peter Craft
2020 Club Championship
(Friday May 22)
Winner –
Runner-up –
3rd Place –


2020 Stewart Brymer Trophy
(Friday May 29)
Winner –
Runner-up –
3rd Place –


Heaviest Fish of the Month
The winners of the heaviest fish of the month contest 2020 are:
April –
May –
June –
July –
August –
September –
October –


Monthly Draw for Angus Angling rod, reel or line, April to October, 2020.
The winners:
April –
May –
June –
July –
August –
September –
October –


Monthly Draw for fly box and flies tied by Aaron Philip, April to October, 2020.
The winners:
April –
May –
June –
July –
August –
September –
October –






Get in touch
Address: Monikie Angling Club, Monikie Country Park, Dundee DD5 3QN.
Phone/email
Phone: 01382 370300 to book a boat.
email: admin@monikie-angling-club.org.uk